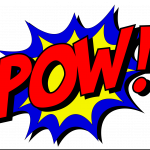 Do you have a Dog Man fan at home?  Maybe you have a stack of the new Babysitters Club graphic novels on the table?  Wings of Fire, Narwhal and Jelly, Zita the Spacegirl...the list goes on and on of great graphic novels.  Join fellow comic lovers for an evening of trivia based on these popular titles and more.  Learn about new books available for checkout at the library and through Overdrive online.  This program is best suited for children age 7-12.  
To participate in trivia, you will need to download the free app for Kahoot and use Zoom- you can use one device or multiple- for instance, Zoom on a computer or tablet and Kahoot on a phone.  You must register to receive the log in information needed to join this program.  Please contact the library at 508-946-2470 or email Amanda Meyer at ameyer@sailsinc.org to sign up.  
 

This program is made possible through the CARES Act funding to Federal Institute of Museum and Library Services as administered by the Massachusetts Board of Library Commissioners. Additional support is provided by the Friends of the Middleborough Public Library.