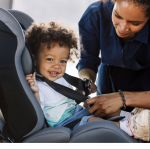 Choosing & Installing Car Seats and Vehicle Safety for Children
Whether you are a parent, grandparent or caregiver, there is a lot to know about the variety of child safety seats on the market, which models will meet the needs of the child, and can be installed and used properly in the vehicle you drive.
This presentation covers the critical information parents, grandparents and caregivers need to know about choosing child safety seats, when it's time to transition and how to install car seats properly.
Please call the library at 508-946-2470 or email ameyer@sailsinc.org to register and obtain the Zoom link.  The presentation lasts approximately 45 minutes with plenty of time for Q and A.