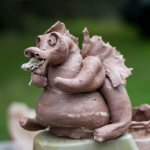 This fun workshop for teens includes a short pottery wheel demonstration by the Pied Potter Rick Hamelin.

Participants will learn how to make a pinch pot (cup made from a ball of clay by pinching the clay with the thumb and finger) and alter it with coils, pads and slabs into a dragon.
Registration is required and will open up in the spring of 2023.