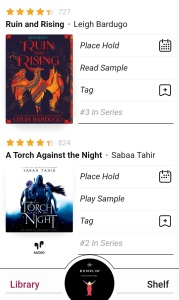 If you haven't tried the Libby app, what are you waiting for?
Downloading ebooks and audio books to your mobile device is now easier than ever!  OverDrive's Libby & Sora apps are super user-friendly, have an attractive, clean look, and are free to use with a library card. 
Books purchased by the Middleborough Library go to Middleborough card users first--so even if you have to place a hold, you'll be pushed to the top of the list. 
Here are some of the titles we just added.
Recently Released
eBooks
Audiobooks
Popular Series