*NEW* Starting in February:  STEAM Storytimes on Tuesdays at 10 a.m. on Facebook.  
Join Miss Amanda for a story and a STEAM (science, technology, engineering, art and math) related activity that you can replicate at home.  Missed it?  These posts will stay up for a while, so you can always go back to it on the Library's Facebook page.
Miss Amanda's Storytime Room:  Geared towards families with preschool age children.  Explore the room by clicking, listening, and following the prompts.  These will be updated with new themes.  Click on the room below to begin.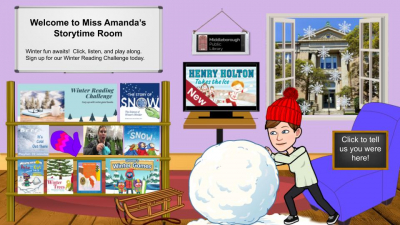 Fridays:  Watch the Library's Facebook page for Miss Lori's Friday Fun activities.
YouTube:  Visit the Library's YouTube channel for storytimes, craft demonstrations and more.  
Stay connected for updates on upcoming programs and events.  Like the Library's Facebook page and sign up for the e-newsletter.