What to Read Next
Find new and notable titles, bestsellers, award-winners, and recommended reading lists for teens aged 12-18.
Spotlight on New Teen Titles 
These titles are available to hold and borrow through the SAILS Library Network.  Click on a title to check for availability.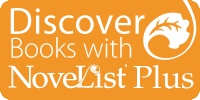 Need a book recommendation?  Try Novelist Plus!  
Browse for book suggestions by age, genre, and subject or type in a book or author for read-alike recommendations. 
Free access to Middleborough cardholders.  
---
Popular and Award-Winning Teen Titles

New York Times Bestsellers — Young Adult Hardcover 
2020 Teens' Top Ten Nominees — The Teens' Top Ten is a "teen choice" list where teens around the country nominate and choose their favorite books of the previous year.
Middleborough Booklists for Teens
See what's new and notable in our teen collections, plus browse our many booklists.
Click on a title to see its availability or to place a hold.  Suggested titles are aimed at 12 to 18 year-old readers and span a broad range of reading and maturity levels.    
Realistic Fiction
Booklists
Adventure & Survival Stories for Grades 7-12
Great Realistic Fiction for Grades 8-12
The Hate U Give Read-Alikes for Grades 8-12
Historical Fiction for Grades 7-12
Sports Reads for Teens (Fiction, Nonfiction, & Memoirs)
Mystery & Thrillers
Booklists
Mysteries & Thrillers for Teens
Thieves, Criminals & Scoundrels  
Romance
Booklists
If You Like Jenny Han's To All the Boys I've Loved Before, Try ...
Realistic Romance for Grades 7-12
Fantasy
Booklists
Here Be Dragons! Stories for Dragon-Loving Teens
Fabulous Fantasy for Grades 7-12
Fractured Fairy Tales for Grades 7-12
Myths & Legends Retold for Grades 6-12
Science Fiction
Booklists
Dystopian Fiction for Grades 7-12
Outer Space & Alien Encounters for Grades 7-12
Graphic Novels
Booklists
2020 Great Graphic Novels for Teens from YALSA — the previous year's best titles chosen by librarians and educators
Get Graphic! Top Graphic Novels for Teens
Manga Series We Own
Teen Manga Series by Genre and Age - a brochure of all our teen manga titles organized by genre (fantasy, action, horror, etc.) - last updated November 2020
Nonfiction, Memoirs, and Biographies
Booklists
Books About Activism for Teens 
Summer Reading  
2020 School Summer Reading for NMS & MHS
Summer Reading Suggestions for Students in Grade 6 & 7