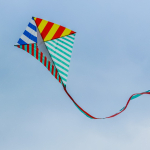 Learn to build your own high flying kite with Don McCasland from Blue Hill Observatory Science Center and Kites Over New England. During the session you will learn the history of kites, kite terminology, kite safety, flying techniques and proper assembly and maintenance so your kite can last many years. 
Bring your kite to the Kites Over Middleborough event on October 19th at the Nichols Middle School in celebration of the town's 350th anniversary.
Please register by stopping by or calling the library at 508-946-2470.  This program is free and open to all ages- kids and adults!