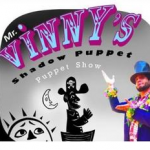 Hey kiddos.... Mr. Vinny's got a brand new show with brand new stuff!  Still silly.  Still interactive.  With new homemade puppets, new games and new stories like "A man named Pete with very smelly feet" and "Awful Waffle".  Watch him pour maple syrup on his brand new overhead projector.  Help him find his car keys.  Listen to him blow his nose! It's still the rowdiest shadow puppet show in town. 
Best for kids age 3 and up and their families.  Space is limited.  FREE tickets for this event will be available on a first come, first served basis for this event starting Tuesday, February 18th.  Any seats not filled by the start time of the show will be open to those who are at the library.
This program is generously supported by the Friends of the Middleborough Public Library.