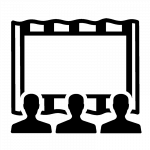 In June 2020, the Theatre Royal Plymouth, UK, will stage This Land, its first ever international community production. This Land is an epic theatrical event marking the 400-year anniversary of the Mayflower's journey and its impact upon arrival in America.
Created and performed by 120 citizens of Plymouth, UK and 30 members of the Native American Wampanoag Tribe from Massachusetts, This Land is the story of what happened then and what it means to us now. Witness the making of history with this unique and vital piece of theatre, which brings together communities from both sides of the Atlantic. 
Join us for this free collaborative screening of "This Land," produced by Theatre Royal Plymouth, UK in collaboration with the Wampanaog Tribe and citizens of Plymouth, UK, with text by Nick Stimson and songs written and performed by Seth Lakeman. Libraries across the commonwealth will be simultaneously screening this recorded performance.
Recommended for ages 12 and up. This event is free and open to the public.