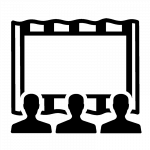 We're pleased to be one of 30 libraries throughout the Commonwealth participating in the debut screening of "This Land," an international theatrical production of the Theatre Royal in Plymouth, England that tells the story of what happened then and what it means to us now. Performers include 130 citizens of Plymouth (UK) and 30 members of the Wampanoag tribe from Massachusetts.  Directed by Alan Lane, with text by Nick Stimson, and songs written and performed by Seth Lakeman.
Our screening will be a broadcast of the live production in England (taped the week of June 15) complete with interviews of the cast and crew members.  Join us as we wrestle with  the complex history surrounding the voyage of The Mayflower and the impact of its arrival on the shores of Massachusetts.
For ages 12 +.  This event is free and open to the public.