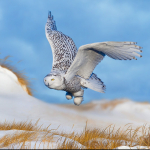 Award-winning wildlife photographer Peter Christoph presents, "On Silent Wings: The Magic of the Snowy Owl."
During the cold winter months, Christoph spends his days along the Atlantic Coast following the movements of a few snowy owls during their winter migration to our New England beaches.  They fly quite a distance from their home on the frozen tundra in the high Arctic and he goes on location to capture these rare and intimate photographs of the owls taken in their winter habitat.  Several of his snowy owl photos have earned national and international awards.
This program is free and open to the public, and made possible thanks to the Friends of the Middleboro Public Library.