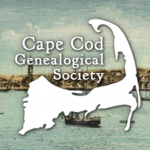 David Martin, chairman of the Education Committee of the Cape Cod Genealogical Society, presents his second online workshop for anyone interested in getting started on their own genealogical research.  Today's class will focus on Immigration and Migration. 

There will be a third class on DNA research to be held on Wed., Nov. 18.
It's suggested (but NOT required) that you attend all three workshops.
You must register; call the Library at 508/946-2470 or email Reference Librarian Libby Fox at lfox@sailsinc.org. You'll receive additional information and a link for the Zoom sessions a few days prior to each class.