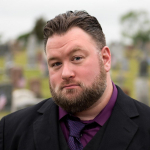 We're all getting weary of discussions about presidential politics at this stage of the election cycle, so we've decided to offer a different Tim Weisberg lecture next week on Zoom. It'll be the same time, same place, just a different topic, so join us online on
Wed., Oct. 28 at 7:00 p.m.
for "Haunted Objects."
From a butter dish on a kitchen counter to the car that killed James Dean, Tim will discuss some of the most famous and infamous cases of inanimate objects being possessed by a spirit. 
This program is appropriate for all ages and, don't worry, "Presidential Paranormal" will return next February.
You
MUST
register for this program. Simply call the Library at 508/946-2470 or email Reference Librarian Libby Fox at
lfox@sailsinc.org
. She'll provide you with the Zoom link next week.