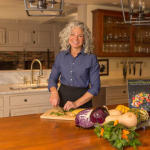 Middleboro favorite chef Liz Barbour returns virtually for her online coooking class, "Artisan Bread in Five Minutes a Day."
This no-knead five-minute artisan bread is truly the easiest bread you'll ever bake, even if you've never baked bread before! This class will focus on the "Master Recipe" from the best selling cookbook Artisan Bread in Five Minutes a Day. Uses only four ingredients, and there's no kneading required. You'll make the dough once and then bake a fresh loaf everyday for four days.  All with only five minutes of effort. 
Liz invites students to make their first batch of dough along with her during class. Ingredient and equipment list will be sent to students upon registration. 
This program is made possible through CARES Act funding to Federal Institute of Museum and Library Services as administered by the Massachusetts Board of Library Commissioners..  Additional support was provided by the Friends of the Middleboro Public Library.