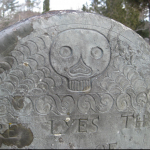 "Welcome to the Graveyard!" is a 90-minute illustrated virtual tour on Zoom chronicling cemetery art, history and symbolism.  From the colonial New England burial grounds of the 17th and 18th centuries through the nationwide rural cemetery movement of the 19th century and into 21st century locations, the program examines why we have cemeteries and gravestones, why they look like they do, and how styles and art have evolved over almost 400 years. The presentation will include pictures from many Middleboro cemeteries.
You must register to receive the Zoom link.  Please call the Library at 508/946-2470 or email lfox@sailsinc.org.
Gravestone Girl Brenda Sullivan has been studying and presenting on the art, history and symbolism of gravestones for more than 30 years.  A lifelong Massachusetts resident, she has spent many hours in graveyards all over the world.
This program is part of our "Gravestones, Gargoyles and More. Oh My!" series on Zoom, and is supported in part by a grant from the Middleborough Cultural Council, a local agency, which is supported by the Mass Cultural Council, a state agency. 
The second program in the series, "The Grotesque 10: Amazing Architectural Sculpture from Ten American Colleges & Universities," will take place on Saturday, March 27 at 1:00 p.m.  This program will by presented by photographer/author Mathew Duman. See the calendar listing for details.