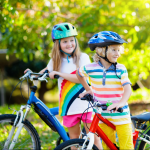 Spring Bike Safety for Kids
With the weather improving and everyone spending more time outdoors- now is the best time for a refresher on bike safety.  This virtual presentation for children and families stresses the importance of wearing a helmet, staying visible, using hand signals, safe places to ride and walk, and teaches the laws and rules of the road. 
Please call the library at 508-946-2470 or email ameyer@sailsinc.org to register and obtain the Zoom link.  This program will last 30-45 minutes.