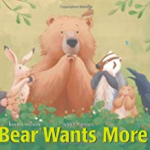 Families are invited to a Spring Storywalk at the YMCA's Camp Yomechas (375 Wareham St.) on Saturday, April 17th from 10 am- 2 pm.  Enjoy the book Bear Wants More, by Karma Wilson, while adhering to all social distancing guidelines.
The STORYWALK® Project was created by Anne Ferguson of Montpelier, VT and developed in collaboration with the Kellogg-Hubbard Library. STORYWALK® is a registered service mark owned by Ms. Ferguson.
This program is made possible through the CARES Act funding to Federal Institute of Museum and Library Services as administered by the Massachusetts Board of LibraryCommissioners. Additional support provided by the Friends of the Middleboro Public Library.