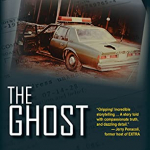 Author Maureen Boyle returns to speak about her new book,  The Ghost: The Murder of Police Chief Greg Adams and the Hunt for His Killer.   The book is about the murder of a Pennsylvania police chief in a small town in 1980 and the search for Donald Webb of New Bedford (and later Dartmouth), a low level mobster.

Boyle is the author of Shallow Graves: The Hunt for the New 

Bedford

 Highway Serial Killer, and an

award-winning journalist.  She's been a crime reporter in New England for more than 25 years and was the first reporter to cover the serial killings in New Bedford detailed in her first book. She currently serves as director of the Journalism Program at Stonehill College in Easton.
Registration will be required for this program as the Library is still observing COVID-19 occupancy limits. To do so, call us at 508/946-2470 or email Libby Fox, Reference/Adult Services Librarian.
Thank you to the Friends of the Middleboro Public Library for sponsoring this program.