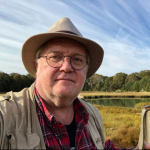 Sailors and settlers on the Cape have a long history of battling the elements, including vicious hurricanes and nor'easters. In "Cape Cod Storm Stories," Don Wilding will take a look back at the hurricanes of 1938 and 1944, Hurricanes Edna, Carol, Bob, and the near-miss of Edouard, as well as the JFK Inaugural Storm of 1961, "The Perfect Storm," the "Surprise Storm" of 2005, and the legendary "Blizzard of '78."
Wilding has been an award-winning newspaper editor, writer and designer in Massachusetts for 35 years.  He's a contributing history columnist for Cape newspapers, a Cape tour guide, and a regular speaker on Cape Cod lore in Massachusetts and across New England.
"Don Wilding … calls himself a storyteller, but he is also somewhat of a scholar. He's a very dynamic man who pulls you into the stories of Cape Cod."
— Rhoda Flaxman, Retired Professor of Literature, Brown University, and Founder, Open University of Wellfleet 
A compelling, thoughtful, thoroughly researched presentation with stunning visuals. I highly recommend Don Wilding to any organization."
— Teresa Izzo, Program Coordinator, Cape Cod Museum of Natural History
Registration is required. Call 508/946-2470 or email lfox@sailsinc.org.

Thanks to the Friends of the Middleboro Public Library for making this program possible.