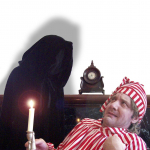 "The Story of Ebenezer Scrooge" (Or: "A Christmas Carol")  The classic tale of a miser's redemption.
Ebenezer Scrooge is a nasty, mean and snarling old geezer, with no care for anything other than his money. His one and only friend visits him as a ghost, and starts him on a journey that melts his icy heart, and teaches him the joys of caring for, and giving to others.  Join Traveling Lantern Theater Company upstairs at the Town Hall (10 Nickerson Ave.) for a program to get everyone into the holiday "spirit."
This show is 45 minutes long followed by time for a Q & A with the actors. This family show is welcome to all ages.  Seating is limited.  Call the library at 508-946-2470 to register.  You must register all in attendance.
Traveling Lantern Theater Company has been educating and entertaining children all over the country since 1985. Our mission is to bring great stories to children, to draw them into an active theater experience, to excite their minds and to tickle their imaginations. We are deeply committed to providing high quality, low cost arts programming to schools and libraries.   Our style is interactive. We invite children from the audience onstage, perform among them, and build our shows to actively involve them in the story. Our plays present important ethical ideas to children on a level that they can absorb, relate to, and consider.
This program is generously sponsored by the Friends of Middleborough Public Library.