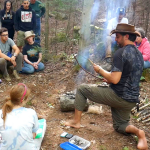 Youth aged 10-18 are invited to sign up for this two-hour basic wilderness survival program.  If you're interested in learning some basic skills to help you survive in the wilderness, then this is the program for you!   Brought to you by Matt Gabriel from Animal Man Survivor, learn the construction of the warmest yet simplest shelter on the planet--the debris hut.  Discover how to coal-burn a wood bowl and rock boil drinking water, soups & stews.  Unlock the mystery of primitive fire making with the bow drill and so much more!  
Due to predicted thunderstorms, this program will be moved to the Library's Downstairs Meeting Room.   
Space is limited.  Call the library at 508-946-2470 to register.
This program is generously supported by the Wilfred M. Silvia Trust.