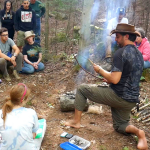 Youth aged 10-18 are invited to sign up for this two-hour basic wilderness survival program.   Matt "Animal Man" Gabriel will teach participants how to create shelter, find and prepare food, and pack a survival kit.  He will also demonstrate how to make fire with a bow drill.
This program will take place outdoors unless there is inclement weather.  TBD
Space is limited.  Call the library at 508-946-2470 to register.