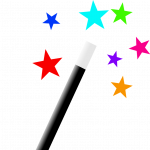 Award winning entertainer and magician Mike Bent brings his show to Middleborough featuring comedy, magic, puppets, music, sound effects and riveting storytelling.  Adventure is Out There highlights some of our favorite books including Spy Camp by Stuart Gibbs, The Boy Who Cried Bigfoot! by Scott Magoon, A Camping Spree with Mr. Magee by Chris Van Dusen and Llama Llama Loves Camping by Anna Dewdney.
Adventure is Out There uses fun, interactive magic to spark young readers' imaginations, taking them off the beaten path to exciting summer reading adventures.  It will leave you wanting s'more!
This program will take place at the Town Hall.  Outdoors on the lawn if the weather is favorable.  In the case of inclement weather, the program will move inside the Town Hall to the upstairs ballroom.  Watch the Library's website and social media for weather related updates.
All ages are welcome. Bring a blanket or seat.  This program is generously supported by the Wilfred M. Silvia Library Trust.