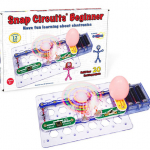 Drop in to the Large Meeting room for Snap Circuit Saturday.  Space is first come, first served.  Social distancing is encouraged.  Kits are best for ages 5 and up.
Come try out the Library's collection of Snap Circuit kits that help kids learn basic circuitry, electronics and engineering.  Can't make it to this event?  Stop by the Funbrary located in the Children's room which has a few available to check out and use at home.
This program is generously supported by the Friends of the Middleborough Public Library.