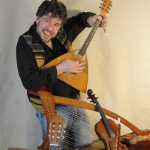 On Saturday, November 19th at 10:30 a.m. beloved trickster, storyteller and musician John Porcino will take us on a pre-Thanksgiving romp.
Along the way you'll....
➢ LEARN some mighty cool tricks and games to play with your own family on Thanksgiving day
➢ HEAR some awesome stories and songs that, to be sure, will tickle your funny-bone
➢ DISCOVER some weird and wonderful musical instruments from all around our amazing world (and try some too if you want at the end of his program)
All in all the best kind of family fun for a Saturday morning.  
*Register for this program by calling the Library at 508-946-2470.
This year John is celebrating 40 wonderful full-time year of weaving a little laughter and good spirit into the lives of thousands of families just like yours! 
"This program is supported in part by a grant from the Middleborough Cultural Council, a local agency which is supported by the Mass Cultural Council, a state agency."