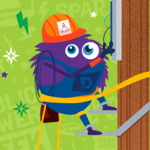 Calling all kid detectives!
The Middleborough Gas & Electric Department needs you for a mission to celebrate community power on Thursday, October 13th
Join us for a FREE energizing educational event with the Monster Detective Collective to celebrate Public Power Week!
Elementary aged kids can join the curious and colorful Monster Detectives as they learn together what energy is, where energy comes from, and how energy heroes power their work and play. Through this interactive presentation, kids will be introduced to Public Power Heroes who work daily to keep the power on in our community.
Come learn more about how energy gets to your home, how Public Power Heroes work hard when electricity is disrupted, and the importance of safe and reliable energy!
Attendees will receive a Monster Detective Coloring sheet – please return it to the Middleborough Public Library by Wednesday, October 19th with your name and grade to be entered into MGED's coloring contest! Our favorite from each grade level will be featured on MGED's website. Check back to www.mged.com, where winners will be posted by November 10th.  
Space is limited.  Please register by calling the Library at 508-946-2470 or emailing ameyer@sailsinc.org.