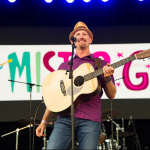 Speak up for the Earth!  All ages are invited to attend this family friendly evening on the Middleborough Town Hall lawn at 10 Nickerson Ave.  From 5-8 p.m. on Tuesday, July 11th you can enjoy outdoor games, a book swap and children's activities brought to you by NECWA (New England Coastal Wildlife Alliance) and with the help from Sustainable Middleborough.  The evening will feature a music performance at 6 p.m. and book sale and signing after by Ben Gundersheimer, known as MISTER G.  He is a Latin Grammy award winning musician, author of numerous children's books, environmental activist and educator.  Find Your Voice for the environment at this exciting Summer Reading event.
Bring a blanket or seats.  All ages are welcome.  No registration is required.  In the case of inclement weather, the concert will take place in the Town Hall ballroom.
This program is supported in part by a grant from the Middleborough Cultural Council, a local agency, which is supported by the Massachusetts Cultural Council, a state agency.  Support was also provided by the Wilfred M. Silvia Library Trust.