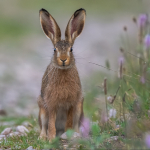 Wildlife is everywhere! Let's be animals for a day!
Join Judy Macioci for an animal themed Little Explorers program best for kids age 3-6.  Call the library at 508-946-2470 to register.
 Animals are everywhere, especially in our forests! Learn about the wild animals we see all the time such as deer, raccoons, squirrels, possums and more. We will pretend to be these animals by  imitating  the noises they make and shuffling, shaking and waddling like they do!
This program is generously supported by the Friends of the Middleborough Public Library.