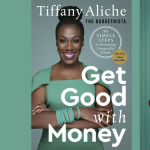 Tiffany Aliche was a successful preschool teacher with a healthy nest egg when a recession and advice from a shady advisor put her out of a job and into a huge financial hole. As she began to chart the path to her own financial rescue, the outline of her 10-step formula for attaining both financial security and peace of mind began to take shape. These principles have now helped more than one million women worldwide save and pay off millions in debt, and begin planning for a richer life.
Her New York Times bestseller, Get Good with Money introduced the powerful concept of building wealth through financial wholeness: a realistic, achievable, and energizing alternative to get-rich-quick and over-complicated money management systems.  To help us set realistic goals and keep us on track to meeting them, Aliche has another invaluable 10-step action plan: Made Whole. With her signature down-to-earth style, her new workbook offers worksheets, checklists, clear explanations of intimidating financial terminology, Simple instruction on calculating our present situation and future needs, and handy hacks for increasing your credit score, making savings "hard to access," and finding support to stay on track to your goals
In this webinar, she will introduce action items for ten important building blocks, including advice on: 
The ins and outs of budgeting,

Investing, 

Credit rating, 

Estate planning, 

Getting insurance, and 

Getting the flow of our money automated
A masterclass in taking charge of your money, "The Budgetnista" has what every reader needs to achieve financial savvy, stability, and security.
About the Author: Tiffany Aliche, aka "The Budgetnista," co-hosts the award-winning Brown Ambition podcast, appears as a financial expert on The Real, and runs an online school, the Live Richer Academy, through which she has taught thousands of women how to create, implement, and automate their financial plans. She's been featured in The Wall Street Journal, Black Enterprise, Reader's Digest, USA Today, Ebony, Forbes, Redbook, The New York Times, Fast Company, and U.S. News & World Report and has been on the Today Show, Good Morning America, and CNN. A repeat speaker at EssenceFest and The Watermark/Women's Conference, she has also taped a series of financial tips for CNBC that reaches 80 million unique viewers each month.
Register here:
https://libraryc.org/midlib/33423