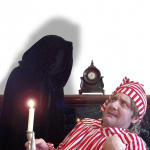 The Traveling Lantern Theatre Company brings their performance of The Story of Ebenezer Scrooge to the Middleborough Public Library.  A classic tale of a miser's redemption.  Ebenezer Scrooge is a nasty, mean and snarling old geezer, with no care for anything other than his money. His one and only friend visits him as a ghost, and starts him on a journey that melts his icy heart, and teaches him the joys of caring for, and giving to others. Traveling Lantern has been entertaining and educating children all over the country since 1985.  Their mission is to bring great stories to children, to draw them into an active theater experience, to excite their minds and to tickle their imaginations. 
This performance is open to all ages.  Seating will be first come, first served.
This program is generously supported by the Friends of the Middleborough Public Library.