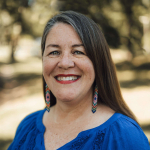 In celebration of National Native American Heritage Month, enrolled Cherokee member, Traci Sorrell, will read her book, Contenders, about the first two Native Americans to appear in the baseball world series!  Best for kids 6 and up as well as adults.  You can join us for a watch party in the Library's Large Meeting room or use the Zoom link to join from home.  Best selling Indigenous writer and award winning children's book author, Traci Sorrell, will answer audience questions after she reads her new non-fiction title. You may know her books for children including:  Powwow Day, We Are Still Here! Native American Truths Everyone Should Know, At the Mountain's Base, and We Are Grateful: Otsaliheliga.  To register to watch Traci Sorell live on the Library's big screen, call 508-946-2470 or email ameyer@sailsinc.org. 
Register for the Zoom link here if you'd like to join us from the comfort of your own home.
This program is generously supported by the Friends of the Middleborough Public Library.