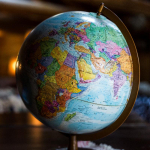 Concerned about what's happening in the Middle East right now but not sure you understand it all?
Please join us at 6:30 p.m. on Wed., Nov. 8 for a presentation on the Middle East conflict by Ray Ajemian. It will address antisemitism, the beginning of Zionism, the creation of Israel, the various wars, and the present day issues, with an emphasis on the role of the United States.
Ajemian currently teaches an adult education course at Bridgewater State University on the Arab-Israeli conflict, and holds two degrees in history specializing in Middle Eastern history from the University of Michigan. He's taught both high school and community college history at various schools in the area.
No registration is required but please bring all of your questions.