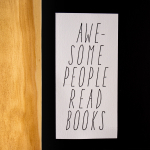 Are you a fan of nonfiction? Are you having a difficult time finding books you love? Join a new group we're forming here at the Library!  We'll share both great and not-so-great nonfiction reads as well as our opinions about them.
This is our inaugural meeting, and we ask that you bring a list of 3-5 titles, with at least one being a recent read.  This 60- to 90-minute meeting will be a great resource for those looking for outstanding books, or want advice on what to read next.
For those who can't physically get to the Library, we'll have a Zoom option available.
If you'd like to attend, please email Reference/Adult Services Librarian Libby Fox at lfox@sailsinc.org for more details.