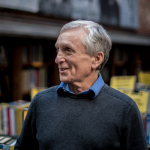 This program is fully registered with a waiting list.  Please see the newly added Zoom option below.
Kenneth Gloss, proprietor of the internationally known Brattle Book Shop in Boston, will visit the library to discuss the value of old and rare books.

Ken, a rare book specialist and appraiser who is frequently seen on national TV, will talk in part about the history of his historic bookshop (www.brattlebookshop.com/about), which goes back to circa 1825. Ken will discuss growing up in the book business, show some of his favorite finds while enjoying "the thrill of the hunt," and explain how he appraises books and manuscripts. He has many fascinating anecdotes to share about private and institutional collecting as well as guidelines for building and maintaining a significant collection. There is also a Q&A session at the conclusion of his talk. 
Following the talk and question-and-answer session, Ken will give free verbal appraisals of books participants have on hand or will do so at his shop in Boston at a later scheduled date.


Yankee Magazine Editor's Choice Award for Best of New England, the Brattle Book Shop is one of America's oldest and largest antiquarian bookstores. 2023 is the 74th year of Gloss family ownership, as Ken succeeded his late father, George Gloss, a well-known figure both in Boston and national antiquarian circles. He had worked in the store since childhood and chose to go into the book business rather than pursue a doctorate in chemistry. He became the sole proprietor upon his father's death in 1985. "I found that books were in my blood and that I would never be really happy if I abandoned the business."
Registration is required if you are attending in person so please call 508/946-2470 or email Reference/Adult Services Librarian Libby Fox at lfox@sailsinc.org to sign up.
Attendees may also attend virtually without registering in advance by the web:
https://us02web.zoom.us/j/86222947103?pwd=bGN1M1RrbGVUS0pTQmZCZXMreGhTUT09
or by phone:
+1 929 205 6099 US (New York)

+1 301 715 8592 US (Washington DC)
---
Meeting ID: 862 2294 7103
Passcode: 02346