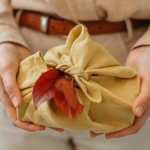 Just in time for the December holiday season, discover Furoshiki, the ancient Japanese art of gift-wrapping and accessorizing with textiles, in a hands-on "playshop."
Multi-talented international artist Nefertiti San Miguel from Etnia Fusion in Boston will take us on a cultural journey to learn this singular technique.
Each participant will use existing materials already available around the house while learning the concepts of Mottainai (an expression of regret for wastefulness) and Kaizen by upcycling leftover fabrics. Spark your creativity by gracefully swathing items of different sizes in ordinary and unique shapes, such as hexagonal boxes, glass bottles, books, picture frames and more. Master the presentation of elegantly wrapped gifts for any occasion and amaze your loved ones with the artistic form and function of one magical square of cloth.
Registration is required so call 508/946-2470 or email lfox@sailsinc.org.

For both adults and high school-aged students.
Thanks to the Friends of the Middleborough Public Library for funding this program.