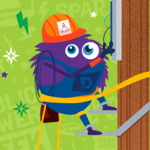 Calling all kid detectives!
The Middleborough Gas & Electric Department needs you for a mission on Wednesday, May 10th.  This time they are adding more interactive elements including a Touch-a-Truck aspect with one of their bucket truck vehicles.
Elementary aged kids can join the curious and colorful Monster Detectives as they learn together what energy is, where energy comes from, and how energy heroes power their work and play. Through this presentation, kids will be introduced to Public Power Heroes who work daily to keep the power on in our community.
Come learn more about how energy gets to your home, how Public Power Heroes work hard when electricity is disrupted, and the importance of safe and reliable energy!  There will be take home materials as well.
Space is limited.  Please register by calling the Library at 508-946-2470 or emailing ameyer@sailsinc.org.