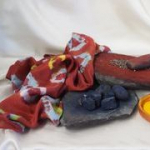 THIS PROGRAM IS FULLY BOOKED, BUT WE HAVE A WAITING LIST YOU MAY SIGN UP FOR. 
Textile artist Rhonda Fazio will join us on Sat., May 25 from 10:00 a.m. to 1:00 p.m. for her "Dyeing to Wear It" workshop.  Participants will have the chance to design their own unique and beautiful piece of wearable art -- a silk scarf made with natural dye materials.
While working on their projects, attendees also will learn about the history and origins of color and how it intersects with American culture. At the end of the class, Fazio will demonstrate different ways to wear a silk scarf.  This portion of the program is open to all.
Fazio has been a resident artist for schools and summer camps from Maine to New York where she teaches the art of natural dyeing and sustainable textile design.  Her work has been exhibited in galleries and museums throughout Massachusetts.
Registration for this program is required as seating is limited, and you MUST be a Middleboro resident, aged 18 and above.  Call 508/946-2470, or email Libby Fox at lfox@sailsinc.org to register.  There is no charge to attend.
This workshop is supported in part by a grant from the Middleborough Cultural Council, a local agency, which is supported by the Massachusetts Cultural Council, a state agency.  Funding also was provided by the Friends of the Middleborough Public Library.